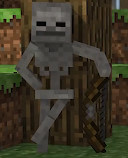 ==Lawrence The Skeleton==
Lawrence is a Skeleton in the series Dig Build Live.  He is a recurring character that first appeared in Shelter.
Appearence
Edit
He's a Skeleton with a pig & a parasol
Appears In
Edit
Every Credits sequence after Shelter with his pig
He seems to like torturing Noob any chance he gets.
He has possibly made friends with the Miner Guy.
He is living proof of how much advanced a Skeleton's AI is.
Ad blocker interference detected!
Wikia is a free-to-use site that makes money from advertising. We have a modified experience for viewers using ad blockers

Wikia is not accessible if you've made further modifications. Remove the custom ad blocker rule(s) and the page will load as expected.